Quickly identify the most substantial savings opportunities in your organization with just a few clicks. Performance is quantified into meaningful dollar values and categorized by functional centre, compensation expenses, and supplies expenses so that you can easily pinpoint areas requiring greater investigation.
Share the most pertinent aspects of your operational performance with your whole team. Spreadsheets can be intimidating even for experienced managers. BIG provides both summary-level and detailed information in simple one-page graphs and tables, allowing your team to focus on only the most relevant details.
Deliver Actionable Insights
Comprehensive reports provide trended functional centre results relative to peer results. Dynamic reports also provide account-level supplies expenses and functional centre staffing model comparisons, allowing users to action on the detailed accounts that are driving overall performance.
Explore the new BIG Healthcare Member Portal
Our new dashboard has been totally re-designed to get you to actionable insights, fast. No more digging through large complicated reports. The new fully interactive experience will guide you directly to the areas of your business that present the greatest potential savings opportunities. At every step, you may also download detailed reports that you can use for further analysis or to include in presentations.
See your Top Savings Opportunities
The Performance Distribution Graph is interactive now! Click any quartile to see exactly what indicators are driving your savings opportunities.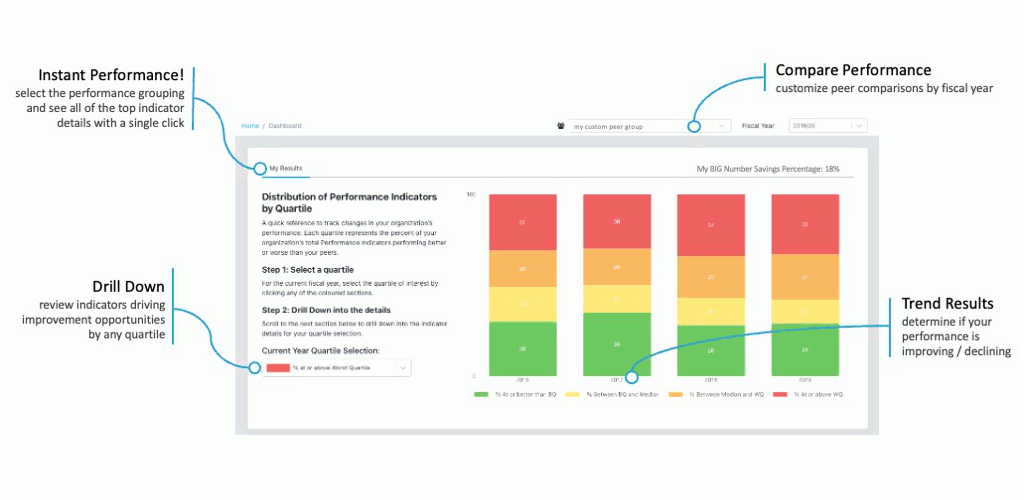 Drill Down into the Details
Immediately see exactly how much each of your top indicators in the quartile can save you. Choose to see your top 5/10/15 indicators and click any indicator "slice" to see even more details below.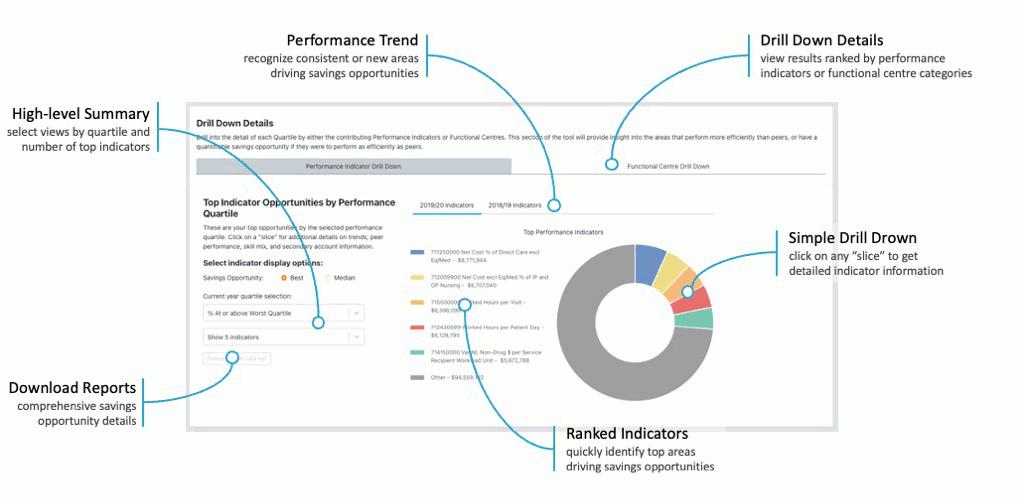 Historical Trends vs Your Peers
This new interactive version of the popular historical trends graph now shows you PEER VALUES! Select up to 10 peers to be displayed on the graph. Hover over any data point to get exact values. Select specific performance indicators. Change to any functional centre.